According to industry intelligence firm IntoTheBlock, Ethereum's dominance in the decentralized finance (DeFi) ecosystem continues to grow, as total value locked (TVL) in this field increased by 14.43 percent to $90.7 billion.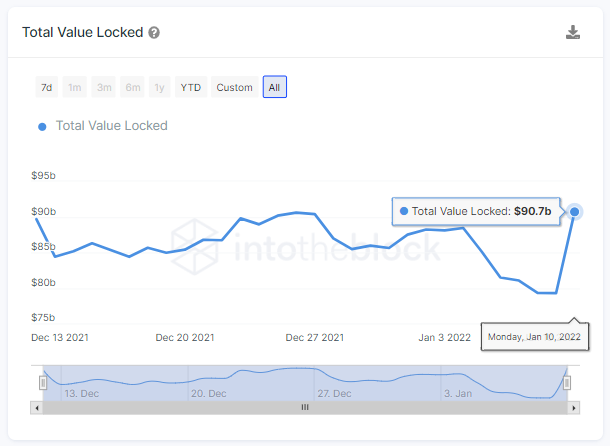 Despite the price falling below the psychological milestone of $3,000, investment in DeFi protocols on the ETH network increased.
Because it eliminates intermediaries by offering financial instruments through smart contracts, DeFi is a booming area in the crypto ecosystem.
The Ethereum network continues to grow in popularity in a variety of ways. According to recent research by blockchain firm Electric Capital, at least 20% of new Web 3.0 engineers are choosing the Ethereum blockchain over competing networks.
According to the report, the number of developers joining the ETH ecosystem is at an all-time high of over 700 each month.
On the other side, long-term ETH investors are exhibiting a lot of faith.
The amount of Ethereum held by the top 10 non-exchange whale addresses has swelled to 25.7 ETH, according to crypto analytic firm Santiment.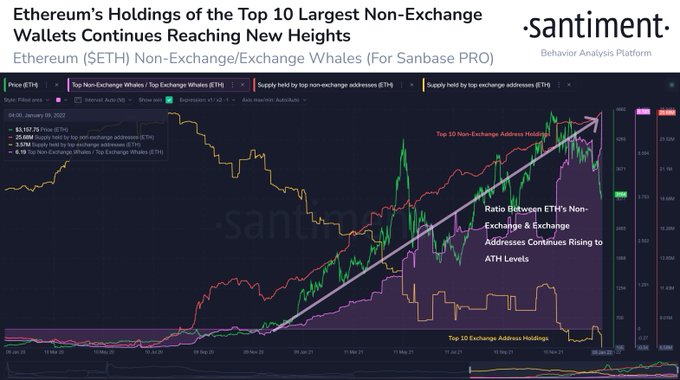 Meanwhile, Ethereum gas consumed in GWEI transactions increased to 188, the highest level since October.
GWEI (gigaWei) is an Ether denomination, with Wei being the smallest unit on the Ethereum network, similar to cents being the lowest unit in the United States dollar.
With a merge to Ethereum 2.0 scheduled for the second quarter of this year, it's unclear whether this transition would alleviate the ETH network's high gas charge problem.