After a fourteen-fold increase in value, the decentralized finance (DeFi) industry caught the globe by storm in 2020. Its presence in the crypto world is becoming more noticeable as its value rises.
The total value locked (TVL) in this industry is $208 billion, according to DefiLlama, a rating and data supplier for DeFi protocols.
Ethereum is the most valuable cryptocurrency in DeFi, with a market cap of $141.92 billion and a market share of 68.2 percent. At $17.38 billion and $10.71 billion, Binance Smart Chain (BSC) and Solana are ranked second and third, respectively.
DeFi is based on smart contracts built on the blockchain that perform certain financial activities based on the underlying code.
According to some analysts, this business will continue to develop in the future years. For example, senior crypto investor Matthew Roszak recently predicted that the DeFi sector would grow to $800 billion in value due to growing mainstream crypto usage, the worldwide hunt for yield, and rising inflation.
According to blockchain analytic firm Chainalysis, the United States had the highest DeFi adoption rate, followed by Vietnam, Thailand, China, and the United Kingdom.
Ethereum 2.0 continues to attract more investment
Glassnode, a market research firm, says:
"The total value in the ETH 2.0 Deposit Contract just reached an ATH of 7,906,210 ETH."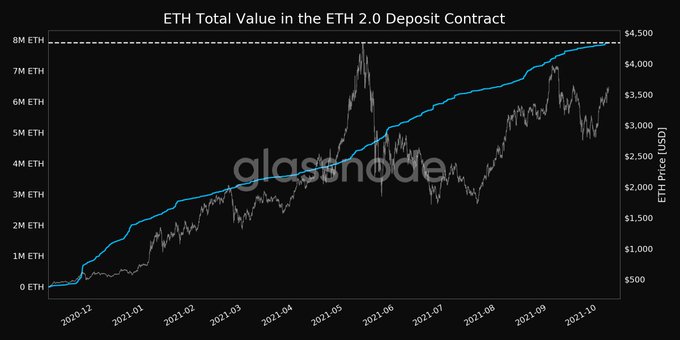 The Beacon Chain, also known as Ethereum 2.0, is a game-changer that will allow a shift from the existing proof-of-work (POW) consensus method to a proof-of-stake (POS) framework. Scalability and efficiency will be improved as a consequence.
Meanwhile, the Ethereum network continues to prosper for the holding. Reportedly:
"The number Ethereum addresses Holding 100+ Coins just reached a 4-month high of 43,048."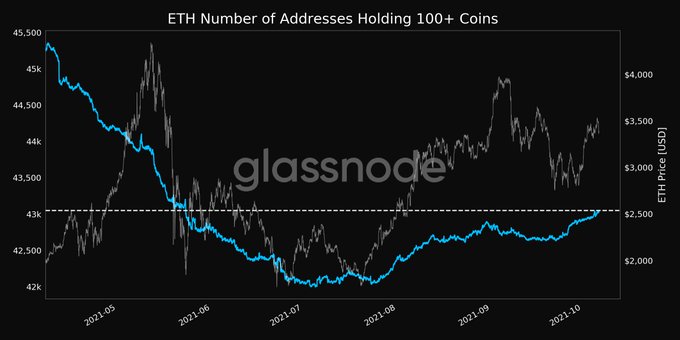 Because coins are maintained in cold storage and digital wallets for future uses other than speculation, holding is a popular approach in the crypto world.