Over the last 24 hours, CryptoPunks sales have increased by 728 percent, according to OpenSea.
VISA said today that it had acquired a CryptoPunks token. As a result of the announcement, more investors were interested in the non-fungible token series, and sales volumes increased.
More than 300 tokens have been sold
CryptoPunks trade rose by 728 percent today, according to OpenSea. Over the last 24 hours, about 365 tokens have been sold, with 325 of them sold within 10 hours after VISA's announcement.
Meanwhile, the non-fungible token series has a seven-day volume of 13,544 ETH, equal to $44.9 million in cash.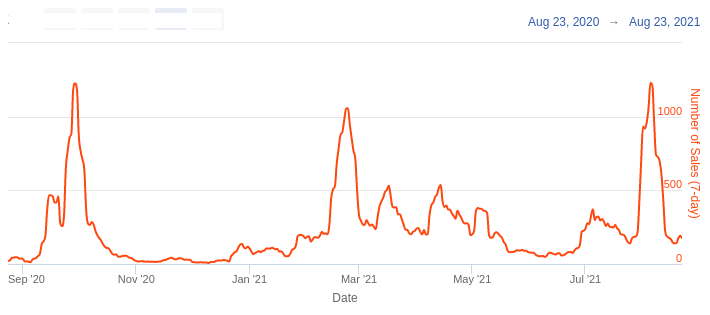 These transactions only transferred a small portion of CryptoPunk's 10,000 non-fungible token supply. Despite this, CryptoPunks is now the second-largest NFT series by trading volume, trailing only Art Blocks Curated.
Will There Be More CryptoPunks Sold?
Over the following several days or weeks, CryptoPunk's volume is expected to continue to rise. According to Nonfungible.com, which offers historical statistics, the NFT collection has experienced three additional big spikes in trade in the last year.
Late July saw a spike after entrepreneur Gary Vaynerchuk purchased a CryptoPunk; February had a huge purchase from an unnamed buyer, and September and October 2020 saw a spike for unclear causes.
This year, CryptoPunks drew a lot of interest from the general public. The auction house Christie's sold nine CryptoPunks in May. Sotheby's, a rival, sold a CryptoPunk for $11 million in June.
The series is noteworthy for being one of the first NFTs or "cryptocollectibles" on Ethereum, released in 2017.