Ethereum has crossed the $3,000 barrier two days after EIP-1559 went live.
Since May, Ethereum has been trading above $3,000 for the first time.
EIP-1559 is causing Ethereum to rally.
For the first time since May, Ethereum has crossed the $3,000 barrier.
Following a two-week rise, ETH is presently trading at $3,077, up about 12% in the previous 24 hours. It fell to about $1,730 on July 20 before regaining momentum and setting new highs daily since then.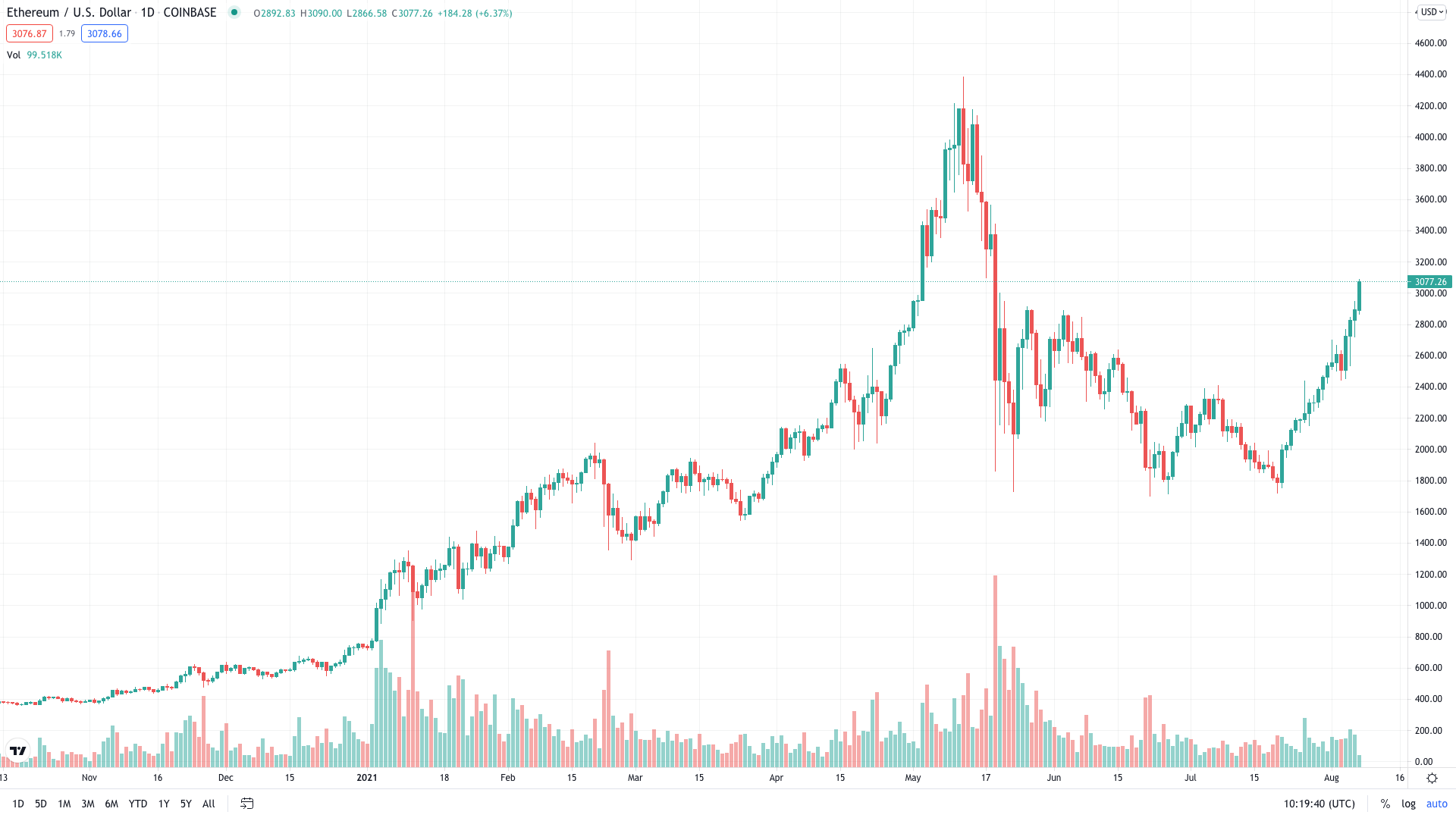 From July 20 to August 2, ETH had the longest run of green closures in its history, with 13 straight daily green candles. Then, on August 3, it had a short drop before resuming its upward trend.
The most crucial element driving the increase might be EIP-1559, Ethereum's fee burn mechanism, which went live on mainnet on Thursday. By adding an introductory price for gas, EIP-1559 attempts to make Ethereum transactions more predictable. The bulk of the charge is likewise burnt, decreasing the amount of ETH in circulation.
Ethereum has already burnt over 8,750 ETH, the equivalent of roughly $26.7 million at today's rates, according to statistics from ultrasound.money. The largest NFT marketplace, OpenSea, is now the greatest force fanning the fire. The NFT market has also been booming recently, which is good news for Ethereum (most NFTs live on the network, and ETH is generally used as a currency to pay for the assets).
Over 6.5 million ETH has been placed into Ethereum's staking contract, while Glassnode data reveals that over 10 million ETH is locked in DeFi, with smart contracts accounting for over 22.5 percent of the supply. This implies fewer coins are in circulation, and with EIP-1559's additional burning impact, ETH is facing a supply-side bottleneck as demand rises.
ETH recently crossed the $3,000 barrier in May amid a period of crypto market frenzy fuelled by retail. It reached a high of $4,357 before a market-wide fall, putting it roughly 30% shy of a new all-time high.