Bitcoin's price has barely recovered after rising by 24.15 percent in the previous week, according to Coinmarketcap.
Bitcoin was trading at $36,954 during the intraday. With a market capitalization of $691,522,863,909, bitcoin is the most valuable cryptocurrency. Furthermore, for the first time since June 16, the price of Bitcoin breached the psychological barrier of $40,000.
Despite the price recovery, institutional investors appear to be uninterested, with institutional sentiment remaining negative.
On Monday, July 26, the research firm CoinShares issued a study titled "Digital Asset Fund Flows Weekly."
According to the study, the net outflow of digital asset investment products has reached $28 million, marking the third week of outflow.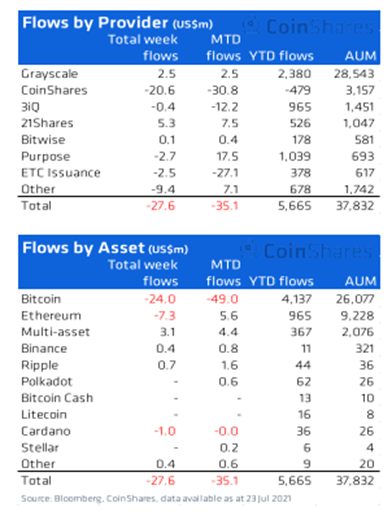 Bitcoin is also used for money withdrawal. Bitcoin, a virtual currency investment asset, accounted for 85 percent of the overall outflow, totaling 24 million dollars, the largest outflow since mid-June.
The majority of the money, according to Coinshares, exhibited various degrees of outflow from Bitcoin and Ethereum. Within a week, Ethereum also flowed out $7.3 million, while multi-asset funds defied the trend with a total net inflow of $3.1 million, indicating that despite more recent optimistic statements from major industry leaders, the negative sentiment still pervades the asset class.
In contrast, cryptocurrencies like Binance's BNB token and ripple(XRP) had inflows of $0.4 million and $0.7 million, respectively.