Cardano has risen 18.05 percent in the last 24 hours, reaching a new all-time high of $1.55.
Cardano (ADA) has been trading sideways since March 18, when it failed to break through the previous resistance level of $1.48.
This indicates that the market does not consider ADA to be overvalued. Rather, ADA has amassed enough strength to smash through the heavy resistance of $1.48 at an early point, and market analysts predict that ADA will continue to rise.
By the end of the year, the price of ADA would have increased by tenfold, according to Justin Bennett, an analyst with over 39.2K followers on Twitter. ADA will be worth more than $12 by the end of the year, according to a 10-fold rise.
The trader went on to say that he's buying Cardano because he thinks the current consolidation is just temporary, as the decentralized network aims to create a larger smart contract platform.
Price Analysis of Cardano (ADA)
Cardano has broken the previous high of $1.488, according to the 4-hour candlestick chart, and the bulls are attempting to turn this resistance level into a support level.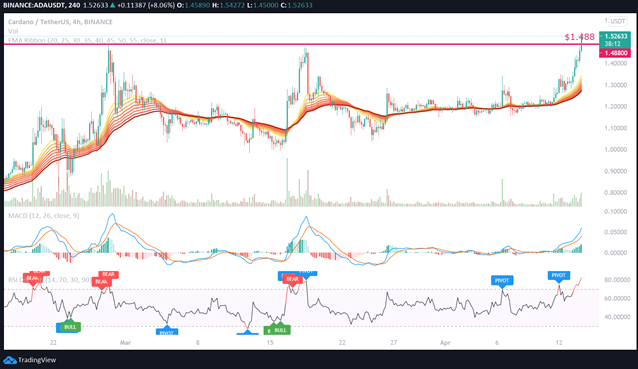 The price of ADA has reached an all-time high of $1.55, and trading volume is growing. The transaction price of ADA has retraced to $1.53 at the time of publishing.
Bitcoin has drawn further funds to continue flowing into the cryptocurrency sector as it set a new historical high of $64843.
The relative strength index shows that this altcoin has remained above the 50 mark's equilibrium zone, treading upwards to the overbought zone. The bullish MACD index and upward Exponential Moving Average (EMA) ribbon show that the current price level is sponsored by the consumer.
ADA bears must keep the price below $1.48 at all costs in order to invalidate the bullish outlook. Cardano's price will fall to a 20-Exponential Moving Average of $1.26 if there is a heavy consolidation at this stage.
If the bulls can drive the ADA's closing price above $1.55, the bullish momentum could propel the stock to a new high of $2.00.