Alpha Finance Lab (ALPHA) has been increasing at an accelerated rate since December 2020. It proceeded to reach an all-time high price of $0.80 on Jan. 21.
After a possible short-term drop, ALPHA is expected to resume its upward movement towards $1.08 and could possibly even reach $1.31.
Doji Signals ALPHA Top?
ALPHA has been on a parabolic upward trend since it began trading on Oct. 10, 2020.
The rate of increase accelerated and ALPHA was able to reach an all-time high price on Jan. 21. However, this created a long upper wick. Depending on the close, it could create a Doji or a shooting star candlestick.
Nevertheless, the trend remains bullish as long as ALPHA is trading above this parabolic support line.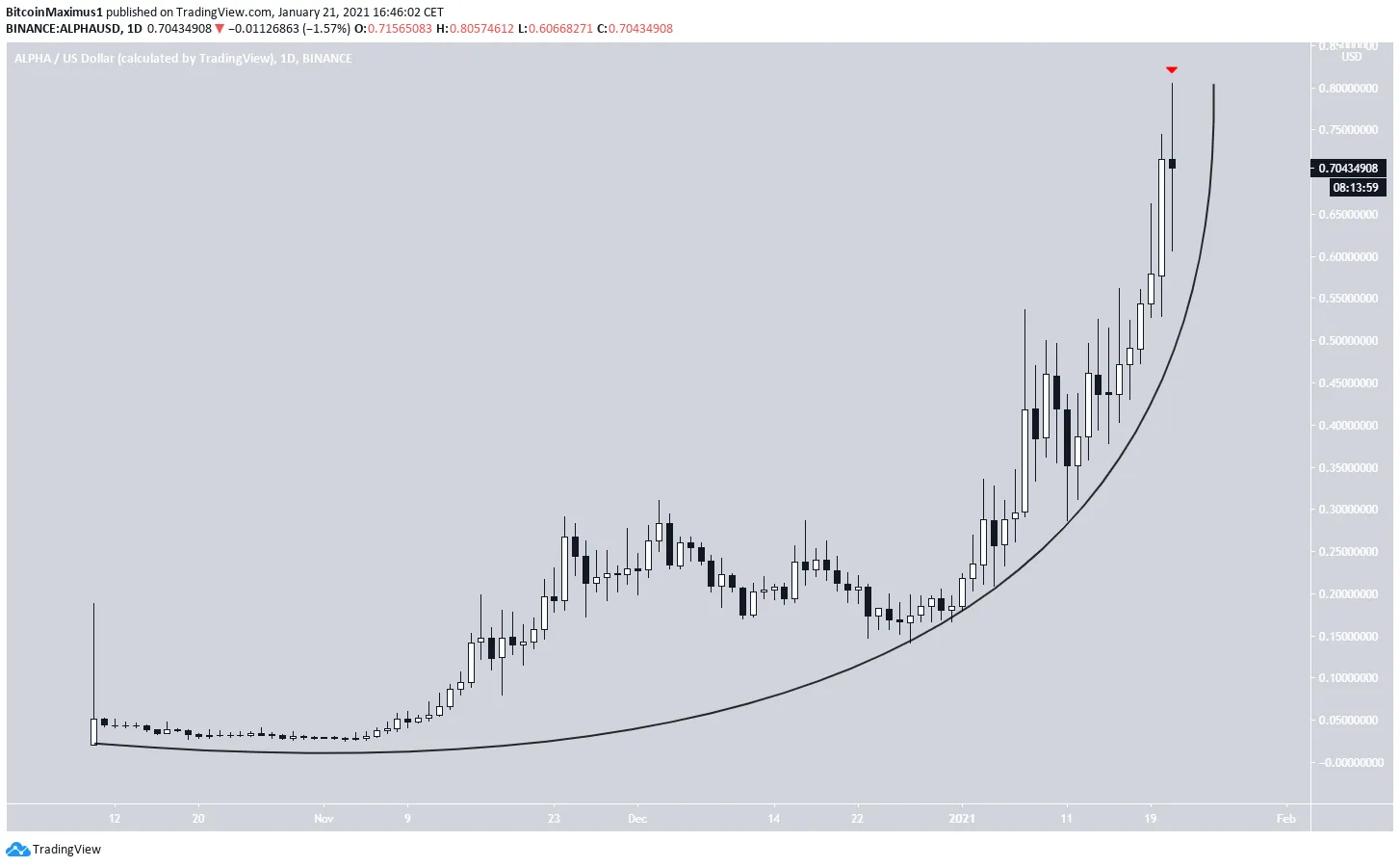 Due to the lack of support below the current price, a breakdown could cause a significant drop. It could potentially fall back to the 0.5 or 0.618 Fib retracement levels at $0.41 and $0.31 respectively.
However, technical indicators are still bullish and have failed to generate any significant weakness.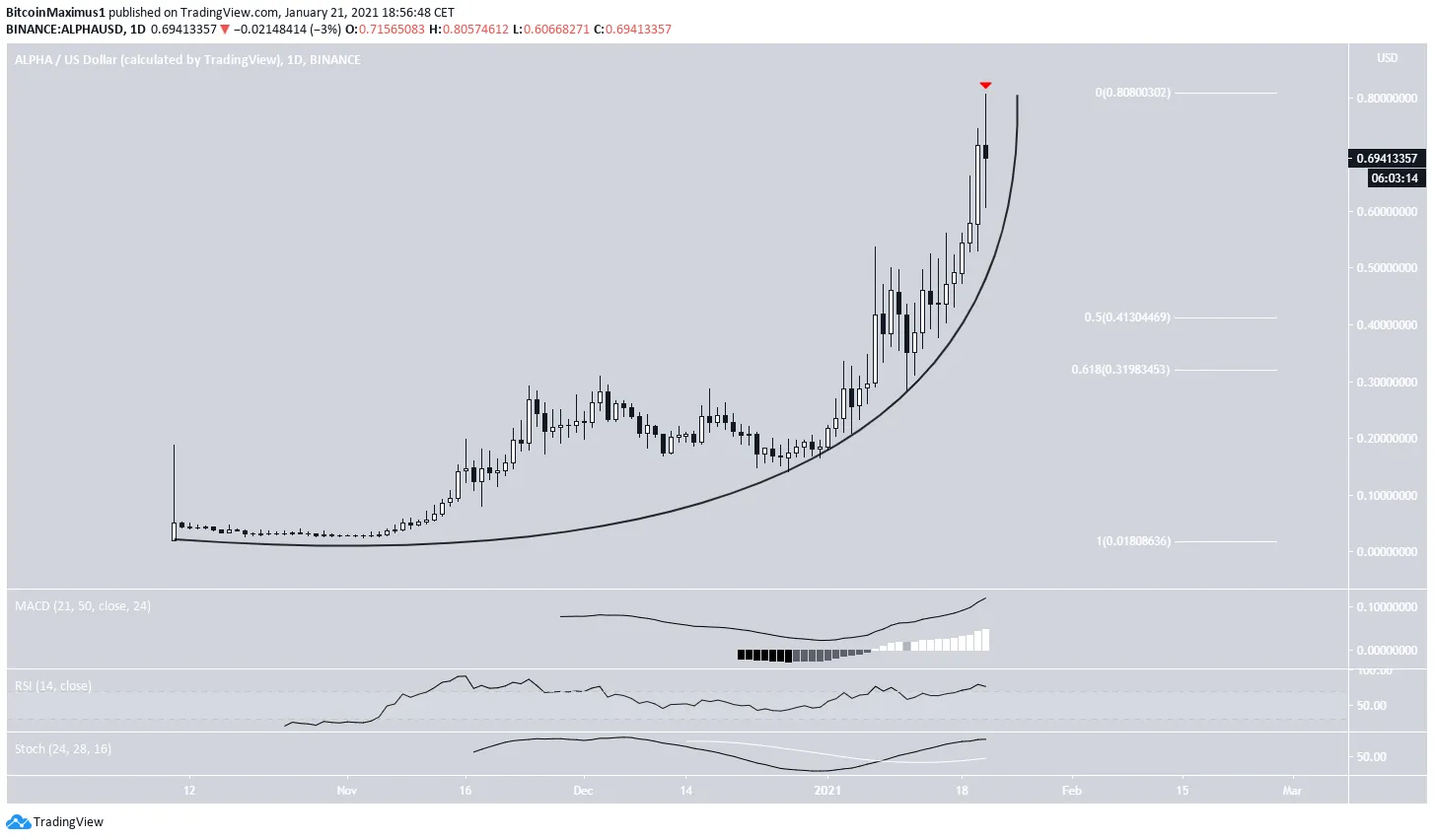 Short-Term Movement
The short-term chart shows a pronounced bearish divergence in both the RSI and the MACD, which preceded the current drop.
In addition, it provides a support area at $0.64, which has been reached and initiated a bounce.
Furthermore, there is an ascending support line at $0.60.
Therefore, as long as ALPHA is trading above the latter, we can consider the short-term trend bullish.
A breakdown from this support line would also entail a breakdown from the parabolic support line outlined in the previous section. This would likely confirm the bearish trend reversal.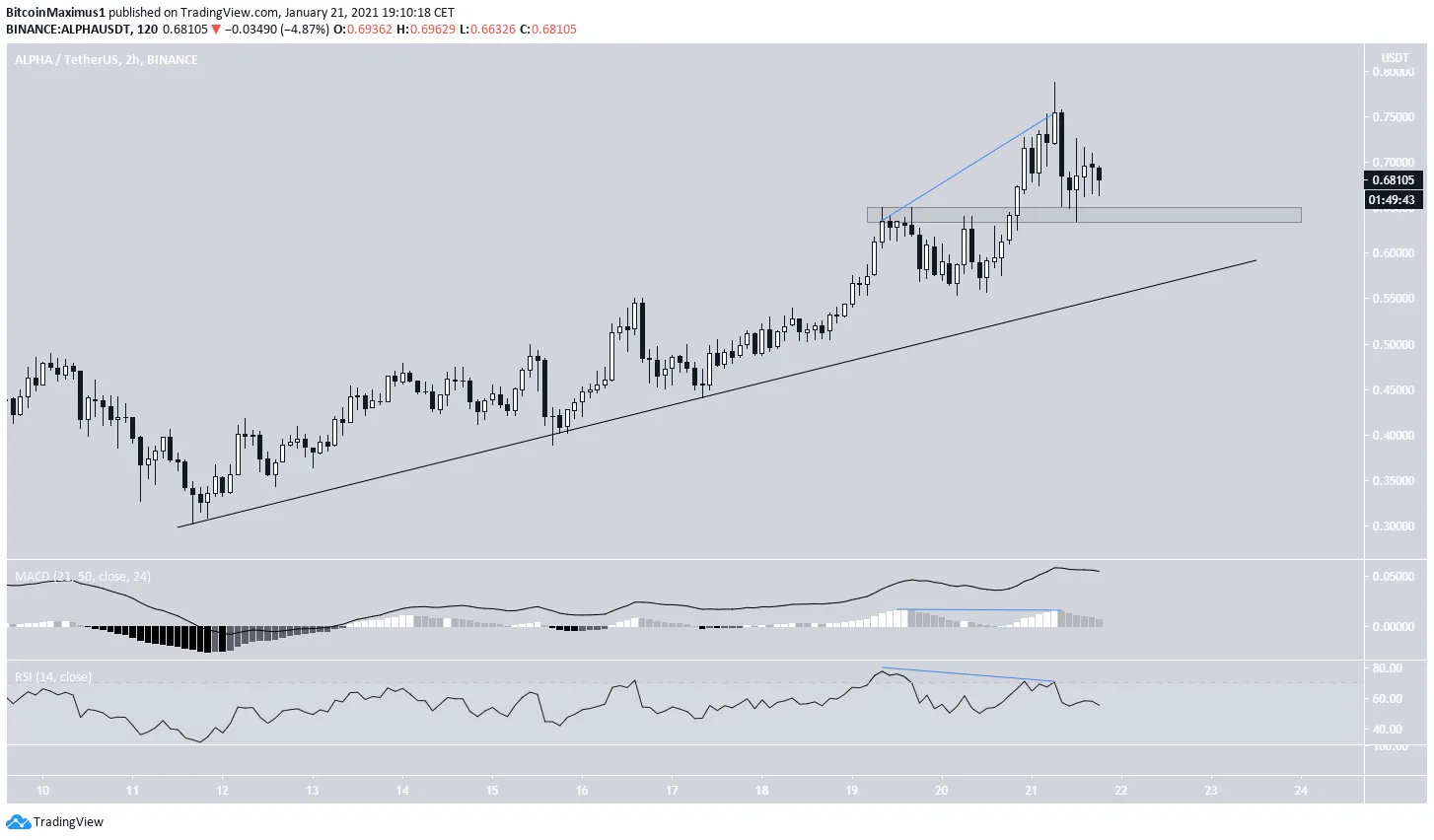 Wave Count
Cryptocurrency trader @CryptoNTez outlined an ALPHA chart which shows an upward movement of nearly 80% over the past three days. However, he did not provide any possible targets for the upcoming upward move.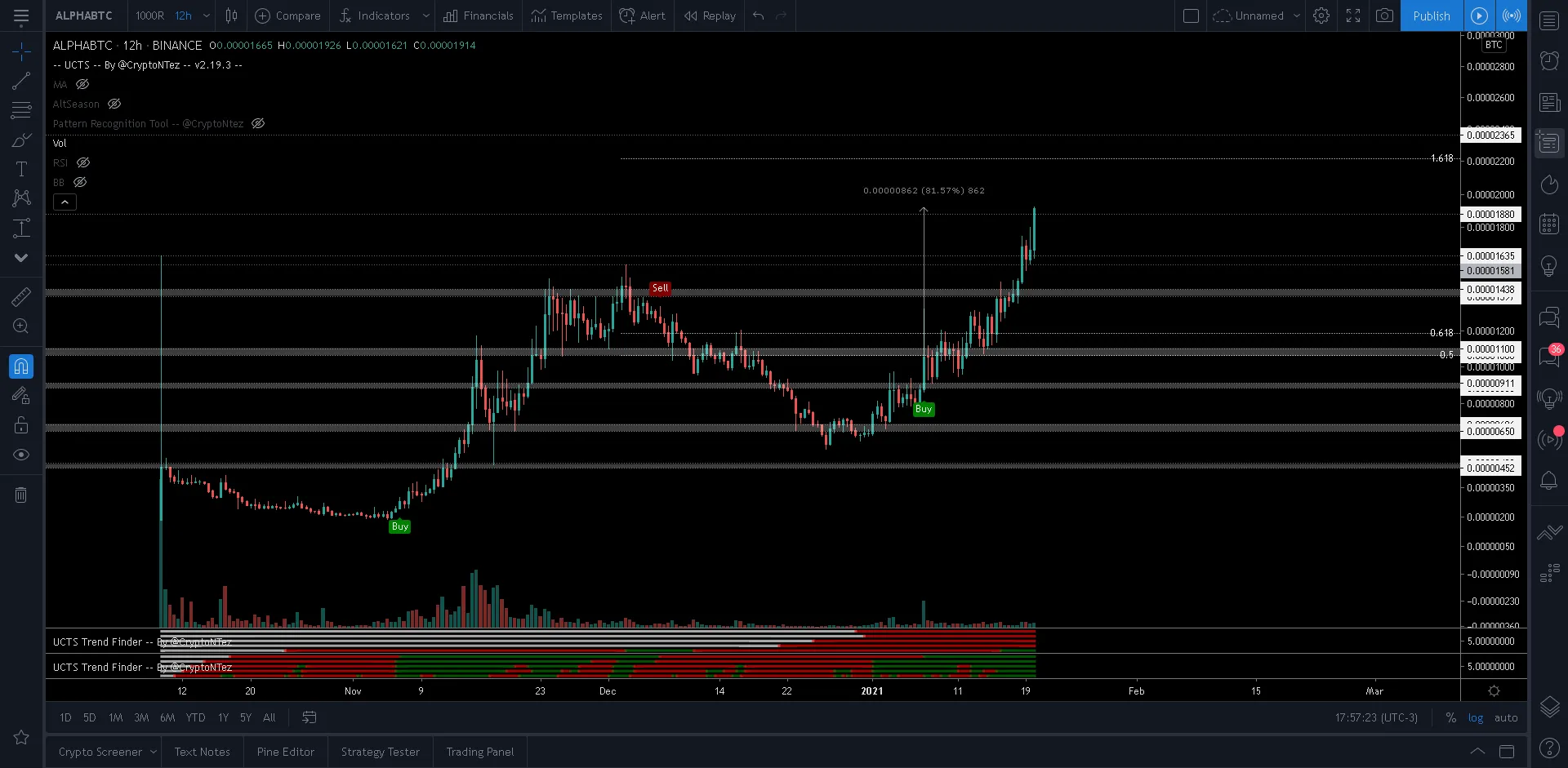 The most likely count suggests that ALPHA is in an extended wave 3 (shown in white below) of a bullish impulse that began in October 2020. The sub-wave count is given in orange.
The most likely target for the top of wave 3 is found at $1.08 (3.61 Fib extension of wave 1). A likely target for the top of the entire impulse is found at $1.37 (4.61 Fib extension of the same wave).
A decrease below the sub-wave 1 high of $0.51 would invalidate this particular wave count. It would also entail a breakdown from both the parabolic and normal ascending support lines, hence confirming that the trend is bearish.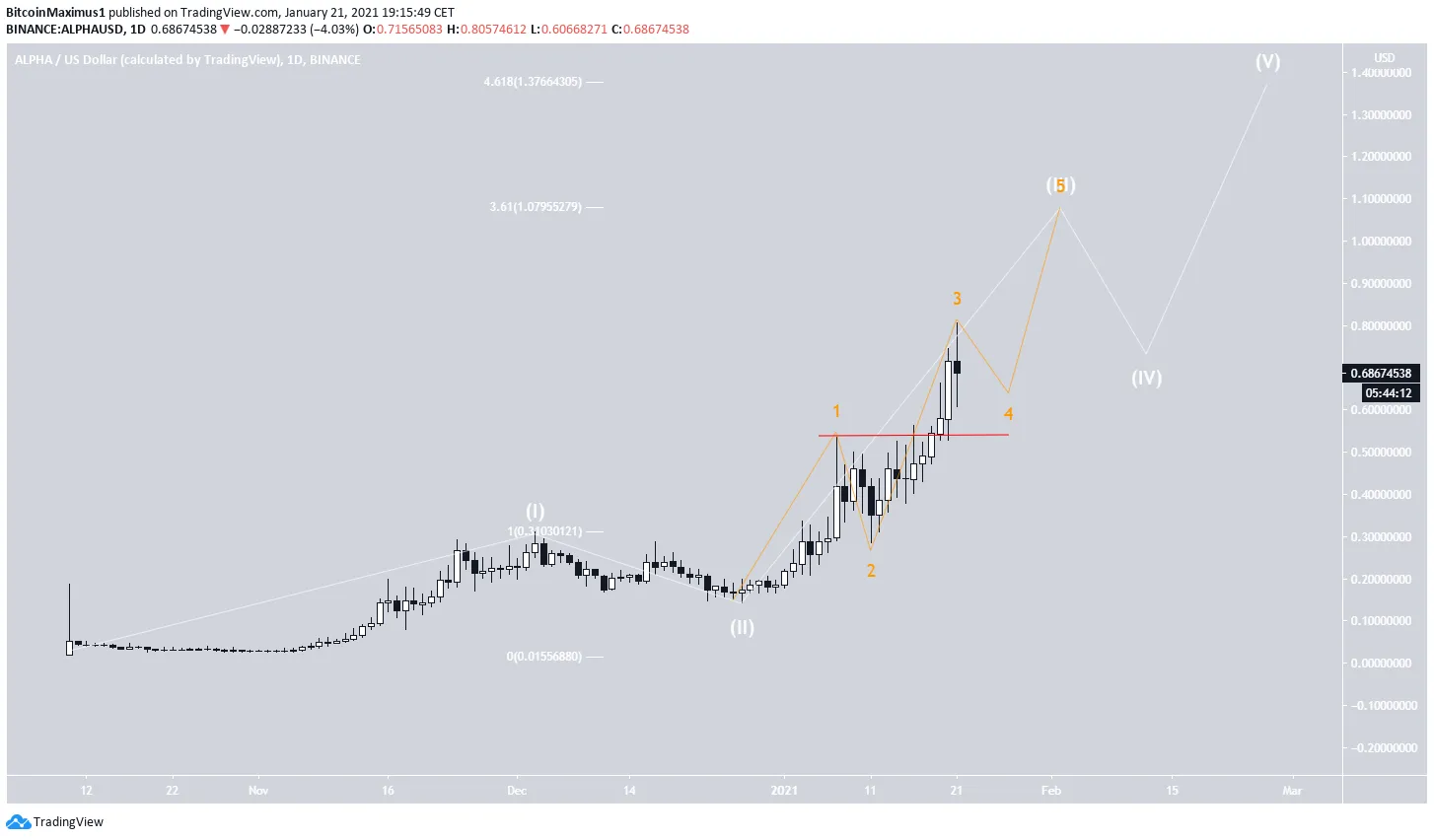 Conclusion
While the long-term trend for ALPHA seems to still be bullish, a short-term drop that validates the ascending support line near $0.60 could occur prior to the resumption of the upward trend.
Source: beincrypto.com