A New York City bar owner wants to leave his businesses behind. And he is hoping to accumulate some Bitcoin while he's at it.
Patrick Hughes, who owns two adjacent bars in Hell's Kitchen (Hellcat Annie's and Scruffy Duffy's) has put his bars up for sale for 25 Bitcoin total. He will also accept 800 Ether, worth about $875,000.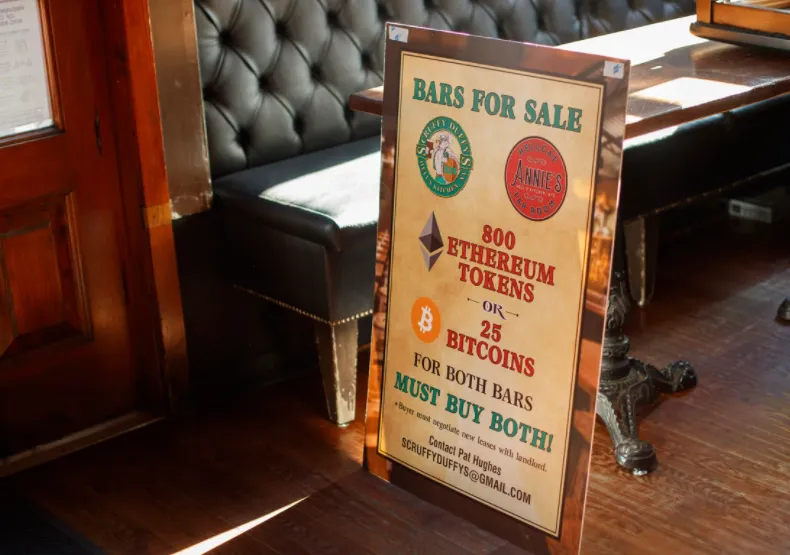 This would be the first crypto-only restaurant sale in the United States. While Bitcoin has been struggling to actually function as a means of payment, Hughes is willing to take the volatile asset's risk in stride.
"Crypto is on fire, it's a hot currency…It's decentralized. It's global."

He told the New York Post that:
Time for a change
Born in Queens, Mr. Hughes now lives in Ho-ho-Kus, New Jersey, and his family has owned bars since 1970.
Hughes is just one of so many investors who are watching the US economy weaken and are disappointed with the Fed's actions to hold up the dollar. Seeing the point of view that the dollar will weaken as the fed prints more, people are seeking crypto as a safe haven.
This was fueled recently when President-elect Biden announced an additional $3 Trillion stimulus package and rumored $2000 checks for US citizens. That money would come from the Federal Reserve, not from assets.
Some famous names have been seeking refuge in cryptocurrencies lately as well. Russel Okung, NFL offensive tackle for the Carolina Panthers, has demanded to be paid in Bitcoin (and it worked).
Elon Musk also said, perhaps light-heartedly, that he would be ok with being paid in Bitcoin. This comes on the heels of BTC's exploding price and institutional support, and wider access to payment partners like Paypal.
Bitcoin history
Charles Sascarilla of the Paxos Trust Company told the NY Post that he was not aware of any restaurants which had been sold for crypto before. He did note that more and more people were really looking into using crypto as a monetary instrument. He called these times a "tipping point" of acceptance for digital currency.
Hughes was experiencing hard times on the business front recently. He employed over 50 people before the start of the pandemic, and is now down to five or six. Likewise, his bars were closed for most of 2020.
There had been a glimmer of hope in November when Hughes reopened Hellcat Annie's with an open-air cabin on Tenth Avenue. Sales picked up dramatically at the time. Scruffy Duffy's, which Hughes opened with a partner in 1990, remained closed as they waited for dining to reopen. Hellcat Annie's had been a pony bar before 2009.
The bar owner said that he played golf and read books and worked on his house. He also taught himself to make cartoons and launched a YouTube channel for Scruffy Duffy to showcase his videos. It is his hope to continue with this creative outlet once the bars sell.
When that happens, Hughes plans to move South with his wife and three children.
"I'm hoping to catch one of these crypto dudes who always wanted to own a bar,"

Hughes said:
He placed a For Sale sign requesting Bitcoin out front to attract buyers as well.
"The next crisis, you won't have to run out and buy toilet paper. You can just use your dollars instead."

Hughes seemed quite convinced that Bitcoin was putting him where he wanted to be he said:
Source: beincrypto.com