According to Glassnode data, more than 40,000 Bitcoins worth about $400 million have been withdrawn from Bitmex in less than 24 hours after the US Commodity Futures Trading Commission (CFTC) filed a legal enforcement action against the cryptocurrency derivatives exchange's owners. The amount of Bitcoin withdrawn from Bitmex is 19% of the crypto exchange's total funds.
While LINK has made several attempts to retest the previous high of $20.67, market bears have constantly fought back at every strategic resistance level. Since its all-time high rally, LINK has made two attempts to retest this level on Aug, 30 and Sept. 4 with the price hitting $17.89 and $17.44 respectively as both could not break beyond the $18.00 resistance level.
Link is currently trading at $9.21 at the time of writing, according to Coingecko. The Ethereum-based token has lost 0.6% in the past 24 hours, complementing the 21.8% loss experienced in the past 30 days. Let's take a look at what the technicals are saying about the short term price prediction of Chainlink (LINK).
Relative Strength Index (RSI) and the Bollinger Bands on LINK Price
With the price of LINK trending low from its highest highs, the token seems to have lost the fight to retest new levels in the past days. Taking a look at the Relative Strength Index (RSI), LINK currently has an RSI of 43.36 according to the 4H chart from Trading View. This RSI score shows a below neutral momentum giving little clue as to the ambitious move of LINK in the coming days.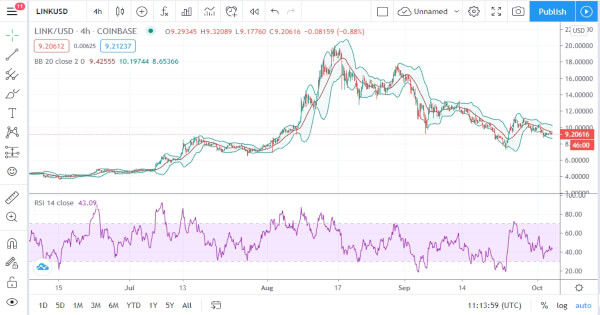 LINK bulls quickly hijacked the market from the bears as the price calmly retraced back from the lower band of the Bollinger Bands on the second of October as shown in the chart. As at the time of writing, the Bollinger Bands are somewhat not suggesting either a clear bullish or bearish runs but the coin may pull an unexpected surprise depending on who pressures the market the most, the bulls or the bears.
LINK's Fundamentals May Drive Bullish Runs
Currently positioned at number 8 of cryptocurrencies by market capitalization according to CoinMarketCap, different digital currencies have had varying responses since President Donald Trump's positive COVID-19 status was announced.
The longer-term price plunge in LINK may draw strength in its strong fundamentals. The LINK Network provides smart contracts with data, bank payments, and access to APIs. These use cases have driven the token up by more than 362.7% in the past one year and with the growing surge of DeFi tokens, LINK's major rallies in the future will depend on greater adoption fueled by the application of its unique offerings.
Source: blockchain.news