Bitcoin has stalled after testing $11,000 twice, failing to hold above that pivotal level.
The coin now trades at $10,950 as of this article's writing, slightly below that pivotal level.
Bitcoin remains in a bullish state on a medium-term time frame, with one analyst pointing to a pivotal bullish continuation signal.
The signal was last seen prior to the $2,500 rally from the mid-$9,000s to $12,000 in the span of about a week.
History repeating will mean that BTC is on the verge of a notable move higher.
BITCOIN FORMS PIVOTAL BULLISH REVERSAL SIGNAL
One crypto trader recently identified that ach of Bitcoin's RSI bullish channel breaks over the past year has resulted in strong trend continuation.
He shared the chart below, which shows that the last time Bitcoin's RSI looked as it does now, the coin surged $2,500 in about the span of a week.
History repeating will mean that BTC is on the verge of a notable move higher.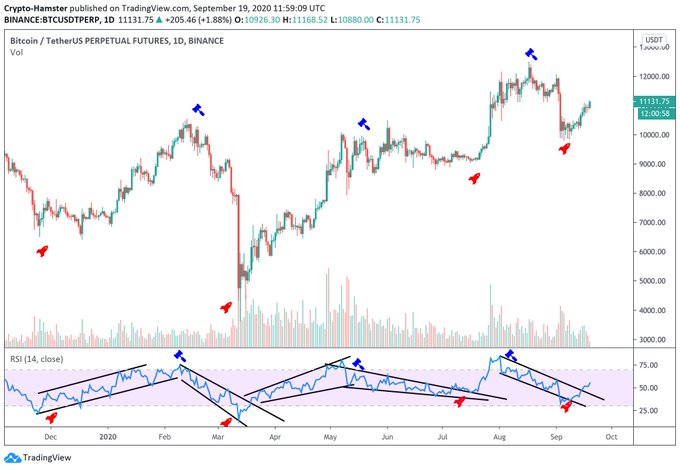 It's worth noting that this same analyst is bearish on a short-term time frame. This notably does not invalidate the above analysis, though, which suggests that Bitcoin is in the middle of a medium-term breakout.
The reason why this analyst is bearish on a short-term time frame is that there are a number of signals on Bitcoin's short-term chart that suggests a correction is imminent. Some of these reasons are as follows:
Bitcoin has formed a Tom Demark Sequential "9" on its daily chart, suggesting a bearish reversal.
BTC has confirmed $11,000 as a resistance by forming a wick above that level, then failing to hold above it.
There are hidden bearish divergences forming between Bitcoin's recent price action and two indicators: the Stochastic RSI and the Fisher Transform. Both indicators are trend indicators.
ON-CHAIN ANALYTICS AGREE
On-chain analytics agree with the abovementioned trader's sentiment that Bitcoin is embroiled in a medium-term reversal.
Willy Woo, a prominent on-chain analyst, wrote the following last week on BTC's outlook:
"Another impulse of coins changing hands has completed, the next directional move over the coming weeks is likely upwards. It's very unlikely we'll see any kind of a catastrophic dump in price from here. Overall, I'm not expecting any mega dump, some chance of smaller whipsaws in the short timeframes, resistance is teetering. Not a bad time to get in if you're a spot investor, given the longer range macro. There's plenty of buy support below 10k, this is a buy the dip scenario."
His analysis suggests that whenever there's a shift in momentum in the value of Bitcoin transferred on chain, a trend reversal takes place.
From what we know, the recent spike in on-chain transactions was likely the company MicroStrategy buying over 17,000 BTC in an over-the-counter transaction.
Source: bitcoinist.com