On the Ethereum blockchain just recorded the number of daily transactions at an all-time high, which is reflecting the overcrowding of the Ethereum network.
On September 17, according to data recorded on Etherscan, the number of daily transactions on the Ethereum network reached 1,406,000, the highest number ever recorded.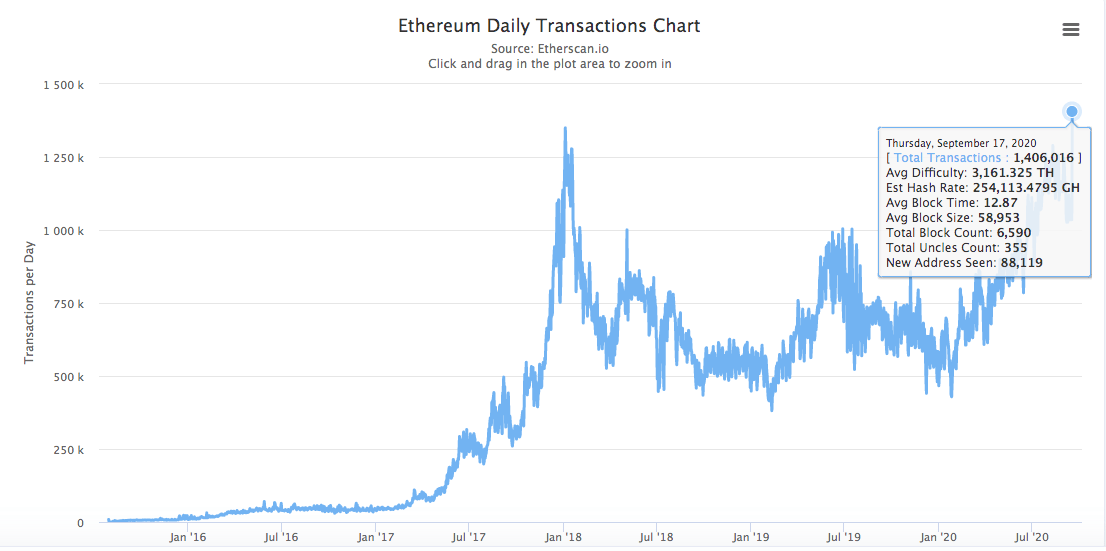 This increase comes from an ongoing boom in decentralized finance (DeFi).
DeFi has been thriving this year, with a total market value of $ 9 billion in August. Many major exchanges like Binance or OKEx are catching the trend when listing a series of DeFi related tokens.
The level of congestion in the Ethereum network is exacerbated, as so far most DeFi projects have been built on the Ethereum network.
Overloading the network leads to a lot of annoyances such as slow processing speeds and rising gas fees, which also poses scalability issues for the Ethereum development team.
On September 18, after the launch of Uniswap's UNI token, Ethereum transaction fees soared to almost $ 1 million an hour.
Amid the rising gas fees of Ethereum on the Ethereum network, Coinbase Pro, has asked its customers to pay gas fees and withdrawal fees.