Tron is finally delving into DeFi after Justin Sun, the entrepreneur-founder of the cryptocurrency project, shared this image amid 2019's Consensus conference.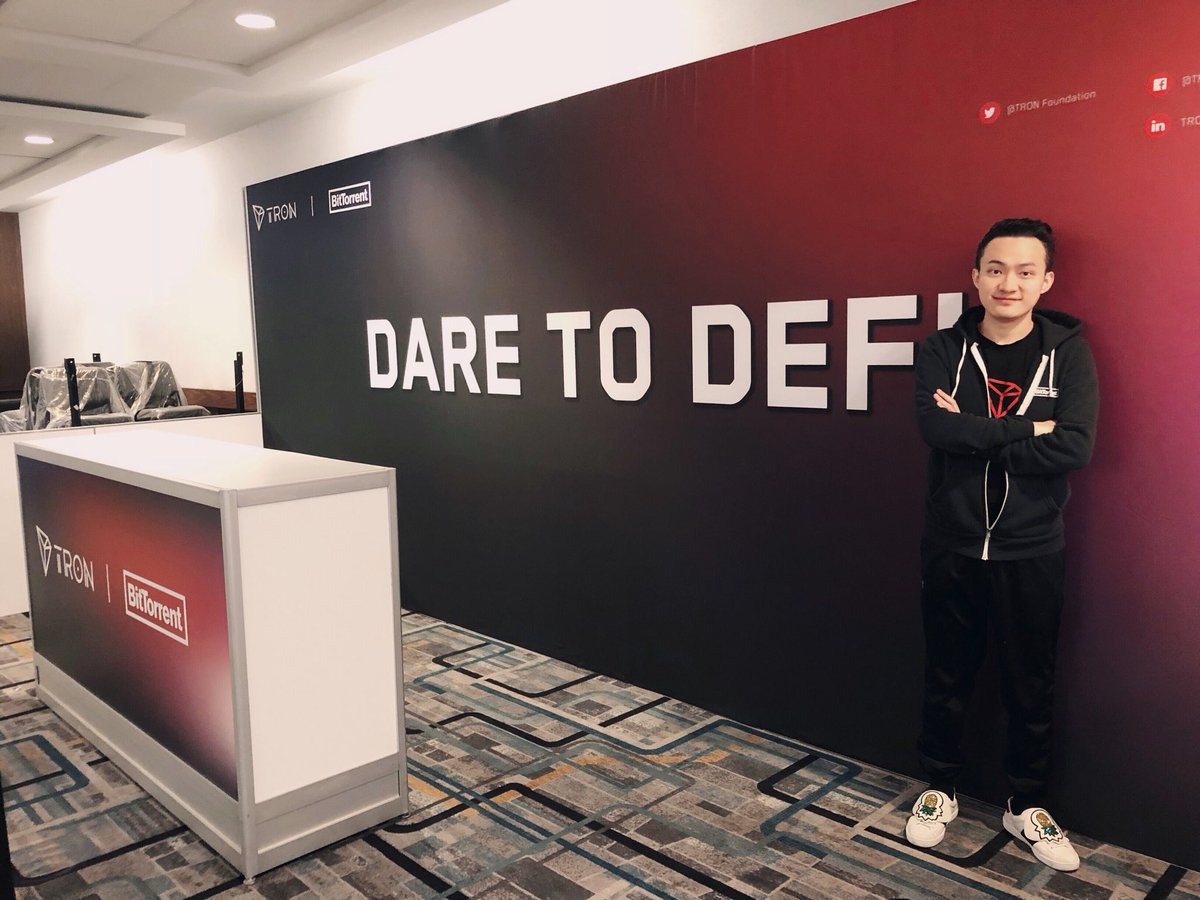 Tron's pivot into decentralized finance, which has taken the crypto industry by storm over recent months, began with the launch of JustSwap, a decentralized exchange that utilizes the automated market maker concept that Uniswap popularized.
Builders in the Tron ecosystem are following up on JustSwap's success thus far with new DeFi protocols that feature liquidity mining/yield farming schemes. The thing is, they eerily resemble Ethereum's protocols, especially Yam.finance.
Tron is going big on DeFi after launching JustSwap
Tron is getting its own DeFi protocols that eerily resemble Yam.finance after the successful rollout of JustSwap, with a firm called "TronFi" leading the charge.
Thus far, Pearl.finance, Salmon.finance, and Carrot.finance have been launched. All of these protocols feature liquidity mining incentives that entice investors to deposit USDT, TRX, or other tokens into the protocols to mint a governance token.
Although it isn't yet clear how much traction Tron's DeFi protocols are garnering, there is a growth opportunity for the blockchain in the short-term because of Ethereum's high transaction fees.
With it costing users around $60 to trade on Uniswap and even more to complete more complex Ethereum transactions, retail investors looking to participate in yield farming may actually opt to use Tron, at least to test it.
The launch of Tron's DeFi ecosystem has had a positive effect on the price of TRX.
According to CryptoSlate data, the coin is up 14.24 percent in the past 24 hours alone and 80 percent in the past week. This makes the asset the best-performing top-20 cryptocurrency.
Mixed community response
While Tron's current yield farming setups are evidently inspired by Ethereum's Yam.finance, SushiSwap, and other leading projects, there are individuals delving into this branch of DeFi.
Michael "BoxMining" Gu posted an image of himself on Twitter downloading the TRX application for the Ledger Nano S or X.
Others in the DeFi community also noted that they're dabbling in Tron's fledging decentralized finance ecosystem.
There have been more negative reactions, though, by those that think Tron is just shamelessly ripping off some of Ethereum's applications.
They're not wrong per se, but it's important to note that Ethereum developers are also copying decentralized applications on their own platforms as we have seen with Uniswap and SushiSwap or Yearn.finance and Yearn.finance II/DFI.money.
Isn't imitation the best form of flattery anyway?Posted In: Ethereum, Tron, DeFi